EQuIS Data Processor (EDP)
EQuIS Data Processor (EDP) is the most widely used EDD enforcement tool in the world and one of our most popular products. EDP is a critical tool for organizations wanting to automate the receipt of lab and field data, and is used by hundreds of laboratories, consultants, and government organizations world-wide.
With EDP, all Electronic Data Deliverables (EDDs) are checked for formatting and valid values before being accepted into EQuIS . Problematic EDDs are rejected and flagged for specific errors, facilitating correction. Automatic notifications are provided to the data submitter.
EDP Data Checking and Loading Modules

EDP (Standalone)

Includes all "standard" EDDs
Used by labs and field crews preparing data submissions
New/custom EDD formats can be developed at an additional cost

EDP (Distribution License)

Unlimited license for distribution of EDP with your format
to all of your labs and field crews
EDD should match EDD in Standalone EDP
CEDD formats can be developed at an additional cost

Enterprise EDP

Workflow automation processing EDDs via POP3 email, FTP,
or Web portal on your server
Requires EQuIS 5 Server License (SQL Server or Oracle)

Enterprise EDP for Labs

 Workflow automation processing EDDs via POP3 email, FTP,
or Web portal on your server
Requires EQuIS 5 Server License (SQL Server or Oracle)

EDD FormatsCreate custom EDD formats, or contact EarthSoft for new EDDs.
Standard Formats

EFWEDD (EQuIS 4 File)
ESBasic
EZEDD
EZLithology
GeologyEDD
ReferenceValues
WaterLevels

Licensed Formats

US EPA Regions 2, 3, 4, 5, 7
New York DEC
US Navy NEDTS
US Coast Guard
RUSS
WV DEP
Soil/Water EDGE
Geotracker EDF
RockWorks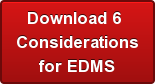 var s='hubspotutk',r,c=((r=new RegExp('(^|; )'+s+'=([^;]*)').exec(document.cookie))?r[2]:(function(){var c='0123456789abcdef',s=[],i=0;for(i=0;i<32;i++)s[i]=c[Math.floor(Math.random()*0x10)];return s.join('');})()),w=window;w[s]=w[s]||c;
(function(){
var hsjs = document.createElement("script"), el=document.getElementById("hs-cta-dfd3e059-5ffe-4208-851c-34fdc8fe2656") || document.getElementsByTagName('body');
hsjs.type = "text/javascript"; hsjs.async = true;
hsjs.src = "//cta-service-cms2.hubspot.com/cs/loader-v2.js?pg=dfd3e059-5ffe-4208-851c-34fdc8fe2656&pid=27643&hsutk=" + encodeURIComponent(c);
(document.getElementsByTagName("head")[0]||document.getElementsByTagName("body")[0]).appendChild(hsjs);
setTimeout(function() {el.style.visibility="hidden"}, 1);
setTimeout(function() {el.style.visibility="visible"}, 2000);
})();